Beautiful Bungalows called Casetti !
Thanks to laying at the feet of the mountains, in a green, wooded, valley, U Furu offers a climatic peculiarity: Clouds constantly build up above the mountain ridge, and then vanish in the sun directly above U Furu. Thereby, the heat of midsummer is slightly reduced, and a gentle breeze results.

If you are looking for comfort and a solid roof over your head, then one of U Furu's 12 bungalows - called 'Casetti' - is for you. With their dry stone walls, they blend perfectly into the landscape. A spacious shady terrace with a table and chairs extend the house into the open. Inside, the bungalows are divided into a living room with a generous kitchen corner, a bathroom, and - in the larger ones - one or two separate bedrooms. All rooms are furnished with functional, clean and comfortable fitments. Sheets are not included

There are three types of bungalow:

Casetti A : 55 m2, for 5-6 persons A living room with a kitchen corner (gas hob, electric oven, sink, fridge with freezer, complete kitchenware), table, chairs, and a bed-settee for 2 persons. Two bedrooms, each two combinable single beds (excl. blankets), a bedside table and a wall cupboard. A bathroom with a bathtub and sink, and a separate toilet

Casetti B : 45 m2, for 3-4 persons As Casetti A, with one bedroom.

Casetti C : 30 m2, for 1-2 persons A living room with a kitchen corner (equipped as Casetti A & B), two combinable single beds (excl. blankets), and a table and chairs. A bathroom with shower, sink and toilet.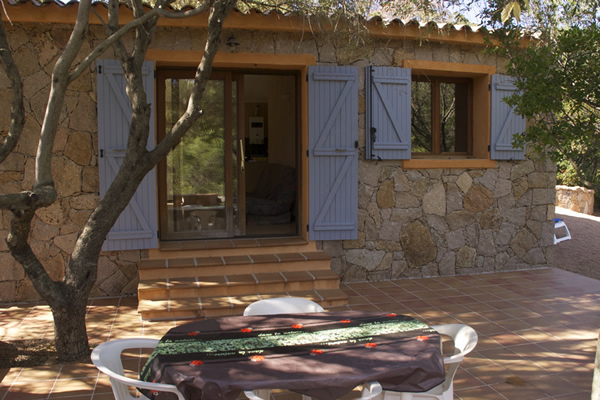 Camping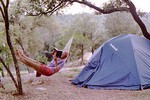 U Furu offers 50 shady terraced spaces for camping on the western slope of the valley and on the meadows alongside the lower river bank. Some of the camping spaces are suitable for camping vans and caravans. A simple but well-maintained sanitary wing, with toilets, showers, sinks and a coin-operated washing machine, is situated in the centre of the camping area.

The spaces are big enough for a large tent. From the camping spaces higher up the slope, you have a fantastic view of the river valley below U Furu, and the plain towards the coast.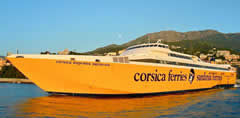 Corsica lies in the Mediterranean, about 120 kilometers west of the Italian "boot", at the latitude of Rome. You can reach the island by car, bus, or train plus car ferry, or by air. The description below leads to right to U Furu's gates.
How to get there: If you go by car, you need to travel to one of the following ferry ports: Marseille, Nizza, Savona, Genoa, La Spezia or Livorno. If possible, choose a ferry link to Bastia, because this is the easiest way to drive to Porto-Vecchio and U Furu. The following ferry companies offer links to Corsica: Corsica Ferries (de la France et l'Italie), Moby Lines (de l'Italie), SNCM Compagnie Méridionale de Navigation (du continent vers l'Ile, avec une liaison directe Marseille/Porto Vecchio)
All the ferry companies offer special tariffs and rebates for return tickets at certain times. Please consult their web sites.
By Airplane And Hired Car: Air Corsica, Air France, Easyjet, Ryanair, JetairFly, Transavia, XL Airways, Avro, FlyBaboo, Volotea
Several airlines offer flights to Corsica. Besides Air France and Nouvelles Frontieres with regular flight there are charter airlines which are better value, and usually plan their timetables from season to season At all airports you find car rental companies like Europcar, Avis and Hertz as well as some local companies. By Train If you want to go by train, you need to travel to one of the ferry ports and then use one of the car ferry services. There are no train ferries between Corsica and the mainland. On the island, there is only one train line between Bastia and Ajaccio, which also branches to Ile Rousse and Calvi. To reach U Furu, you can either hire a car, or take a bus to Porto-Vecchio, then take a taxi.
By Train If you want to go by train, you need to travel to one of the ferry ports and then use one of the car ferry services. There are no train ferries between Corsica and the mainland. On the island, there is only one train line between Bastia and Ajaccio, which also branches to Ile Rousse and Calvi. To reach U Furu, you can either hire a car, or take a bus to Porto-Vecchio, then take a taxi.
On The Island To Porto-Vecchio
If you arrive at Bastia by car, or if you rent a car at the Bastia airport (Poretta), just follow the Route Nationale 198 down the east coast, in the direction of Porto-Vecchio and Bonifacio. The map on the right shows how to get to Porto-Vecchio on main roads, if you come from elsewhere on the island. If you want to get around without a car, you can use the express busses or taxis, which ply between all the larger towns. Hitch-hiking cannot be recommended on Corsica, as one usually experiences very long waiting periods. From Porto-Vecchio To U Furu To get from Porto-Vecchio to U Furu, just follow the signs at the nearby road junctions (as in the picture on the left). The map below shows the way - along with some useful landmarks
Agrandir le plan